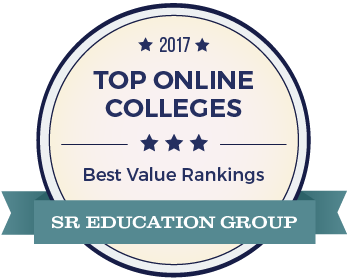 We are extremely excited to announce a major update to our website, Guide to Online Schools: the 2017 Top Online Colleges. These rankings take into account academic strength and affordability in order to provide a list of colleges offering high quality online education at the best value. All colleges on the lists have annual tuition rates of $15,000 or less, and The University of Maryland - College Park earned the #1 spot!
All schools that made the overall 2017 Top Online Colleges ranking offer at least 10 fully online degrees, and the average annual tuition rate of the ranked schools is just $9,020. Morningside College has the lowest annual tuition on the overall list, offering an online master's degree for just $4,320 per year. Fort Hays State University, which offers an online Bachelor's degree for an annual tuition of $6,217, is ranked on 4 out of this year's 5 lists: #1 for Bachelor's degrees, #3 for Associate programs, #12 for Master's degrees, and #16 overall. Georgia Tech, known for its innovative, low-cost online graduate programs, tops the list of Top Online Master's Degrees and offers an annual tuition rate of $5,100.
We will be continuing our research into the cost and quality of online colleges and will be publishing over 100 program-specific Top Online College rankings throughout 2017. Keep an eye out for upcoming rankings to find out which schools offer online students the best value!