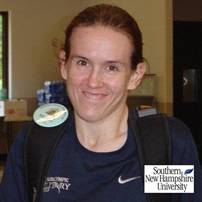 Amanda Kloepfer of Rockford, Illinois, has an incredible story of overcoming adversity. Just as she began her military career in 2007, she was severely injured in a car accident resulting in brain injury, a speech impediment and some hearing loss. Amanda is now pursuing a forensic accounting master's degree from Southern New Hampshire University (SNHU) through an online program that will open up career opportunities for someone with her physical challenges.
"Amanda's perseverance, tenacity and determination is an inspiration to all of us," said Major (Ret.) Gary Pounder, director of military initiatives for SNHU.
The SR Education Group scholarship committee selected Amanda to win the Military Scholarship because of her need and incredible character qualities. Amanda's physical disabilities limit her career options in significant ways. She has trouble speaking in person and over the phone. Earning a degree in forensic accounting will open up a lucrative field where she can be effective and make a difference. Amanda's tenacity and ambition are very impressive; despite her injuries, she is pursuing a very challenging and competitive career as a forensic accountant.
Best Quote from Amanda's Application
I still live by the warrior ethos and those help guide my everyday actions; loyalty, duty, selfless service, honor, integrity, and personal courage.
Finalists
There were five outstanding finalists who did not win the August 2012 Military Scholarship. We would like to bring your attention to their stories so that you recognize that there are many students who still need your help. Each finalist received a $100 award.
Jenny Moore is a part-time teacher and the spouse of an enlisted member of the Air Force. She is pursuing an English degree from Old Dominion University through an online program.
Danielle Dornstadter's father served as a first lieutenant in the Air Force. She is pursuing a design studies degree from Arizona State University in Tempe, Arizona, and hopes to earn her master's in interior architecture.
Denise Davis served in the Army for eight years and her husband retired from the Army. She is pursuing a degree in business from Columbia Southern University in Orange Beach, Alabama.
Hanna DiVello is the wife of an enlisted Army soldier who was prompted to change her area of study by the 2010 earthquake in Haiti. She is pursuing a degree in nutrition and health promotion from Simmons College in Boston, Massachusetts.
Juli Valliere served in the Army starting in 1977. Her enlistment included a deployment for 2 ½ years in Bamburg, Germany. She is earning a degree in psychology from Kaplan University.
About SR Education Group
Since the company was founded in 2004, SR Education Group has been dedicated to building the most authoritative websites for students making career-related education and financial decisions. Their websites help students decide which degrees best fit their goals and provide objective information and data on hundreds of colleges. Their flagship site, GuidetoOnlineSchools.com, features thousands of reviews from online college students and releases Online College Rankings every year to ensure that students receive maximum value from their college.
The Military Scholarship is awarded to an active soldier, veteran, or immediate family member with great financial need, a desire to serve, and a clear plan for success. To apply, enrolled students must answer three open-ended questions to provide a clear picture of how the award will contribute to their life goals and how they hope to impact the world around them. The next deadline to apply is 9/30/2012.
About SNHU
Southern New Hampshire University is a not-for-profit, regionally accredited university with an 80-year history of educating successful professionals. SNHU has a total enrollment of more than 13,000 students in more than 180 undergraduate and graduate degree and certificate programs, available online, at our main campus in Manchester, N.H., and at our regional centers in New Hampshire and Maine.
SNHU was the only university to make Fast Company's 2012 list of the World's 50 Most Innovative Companies, ranking 12th overall.