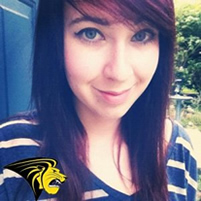 Courtney Dotson of Saint Peters, Missouri is one step close to fulfilling her life-long dream of becoming a special education teacher. Courtney is an incredibly hard-working 23-year-old student at Lindenwood University who is pursuing a degree in Elementary and Special Education.
The SR Education Group scholarship committee selected Courtney to win the Women's Scholarship because they were confident in her ability and determination to make a difference throughout her career as a special education teacher. She displayed an excitement for the profession and a strong commitment to professional development. Her work ethic is exemplary. She works 50 hours per week while attending school full time to reduce the financial strain on herself and her family. We are confident that Courtney will succeed because she has a passion for her career, a solid plan for success and clear financial need.
Best Quote from Courtney's Application
I strongly believe that everyone can learn, despite any differences they might have or any obstacles in their way.
Finalists
There were five outstanding finalists who did not win the July 2012 Women's Scholarship. We would like to acknowledge their stories and recognize that there are many students who still need help. Each finalist received a $100 award.
Erica Dent is a single mother who has dreamed of becoming a nurse since she was seven years old. She is pursuing a BSN in nursing from Baptist College of Health Sciences in Memphis, Tennessee.
Milena Zambrana wants to reach underserved people with free psychological care. She is pursuing a psychology degree from the University of Central Florida in Orlando, Florida.
Rebecca Dawson has a passion for teaching the people of Haiti fueled by four trips to the country. She is pursuing a cross cultural adult education degree from Toccoa Falls College in Toccoa Falls, Georgia.
Pamela Mills is returning to college to become a librarian and work at a middle school. She is pursuing a degree in library informatics from Northern Kentucky University in Highland Heights, Kentucky.
Stephanie Gideon draws on her experience with her own two sons in her pursuit of becoming a medical assistant at a neonatal intensive care unit (NICU). She is pursuing a medical assisting degree from South University in Savannah, Georgia.
About the Women's Scholarship
SR Education Group awards the $2000 Women's Scholarship every other month to a hard-working female college student with financial need and a clear plan for success. To apply, students must answer three open-ended questions that provide the scholarship committee with a clear picture of their goals, motivation, and financial need. The next deadline for application is 9/30/2012.
About SR Education Group
Since the company was founded in 2004, SR Education Group has been dedicated to building the most authoritative websites for students making career-related education and financial decisions. Their websites help students decide which degrees best fit their goals and provide objective information and data on hundreds of colleges. Their flagship site, GuidetoOnlineSchools.com, features thousands of reviews from online college students and releases Online College Rankings every year to ensure that students receive maximum value from their college.