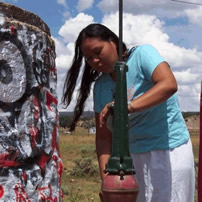 SR Education Group awards a monthly $2,000 needs-based scholarship to one Community College student. The application process requires students to answer three open-ended essays designed to reveal career and academic goals, as well as how the scholarship will impact the life of the student and those around him or her. A committee selects the most compelling applications to be considered finalists and a winner is named from those finalists.
Dawnlei Ben has been selected as the winner of our April 2012 Community College Scholarship!
Dawnlei Hunter Ben is of the Naash'tezhi Ta'chiinii clan on the Navajo reservation in Arizona. She has grown up loving her Navajo heritage and cherishing the Navajo language, while simultaneously enduring the painfully impoverished conditions of the reservation. While she has watched so much of her beautiful culture begin to fade as new generations continue to suffer hardship, Dawnlei has refused to yield. Her steadfast reverence of the Navajo language is only one example of her commitment to ensuring that a way of life, though misplaced, will never be lost.
Dawnlei continued education at Haskell Indian Nation University in Kansas before returning to her home and enrolling at Diné College in Arizona. Even when she left her reservation, she carried the culture with her, by helping Native Americans from Louisiana who were Hurricane Katrina survivors. Instinctively, she began teaching Navajo stick games to the children and found that while many of the adults were overwhelmed by the disaster, the children were optimistic and eager. Impressed by their creativity and imagination, and inspired by their perseverance in the face of such desperate circumstances, she decided her future was with children.
Upon returning to her reservation, Dawnlei began to understand the vital importance of better education to improve conditions and combat the poverty, alcohol, and drug abuse afflicting the youth of the reservation. The plight of her community literally hit home when Dawnlei witnessed drug abuse in her own family. From that moment, Dawnlei decided it was time to take action. Her family is in the process of healing and Dawnlei is on her way to graduating with her Bachelor's in Teacher Education from Diné College. With our help, she'll be able to claim the tools necessary to rebuild her family, her community, and her heritage—as well as plant the seed to inspire future generations.