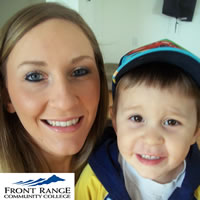 Despite giving birth to her child while just a sophomore in high school, Haley Vice has demonstrated great determination to achieve her academic goals. SR Education Group is proud to award its December 2012 Single Parent Scholarship to this incredible mom.
It was made abundantly clear from Haley's application that she is passionate about her education; she was able to earn her high school diploma one semester ahead of schedule, even with the added challenge of raising a child. 
Since graduating from high school, Haley has been working toward a dental hygienist degree with the hope of being able to provide for her son. Haley also dreams of being able to give back to the world at large: She hopes to travel abroad one day to help victims of sex trafficking and to inspire other teen parents to achieve their educational goals.
"I really believe that by continuing to have a compassionate demeanor, my son will look up to me. He will see what it means to be selfless and to put others first, and will use this knowledge to impact others' lives in a positive way."