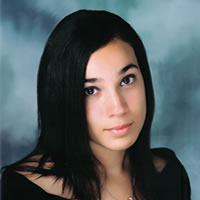 Jossie Morales submitted an impressive application to win the February 2013 Community College Scholarship. This Valencia Community College student demonstrated with her application that she is passionate about her field of study, 3-D animation, and determined to succeed in her educational pursuits.
Jossie Morales is a first-generation college student who has overcome numerous obstacles in her pursuit of education. Despite receiving little educational encouragement and nurturing when she was younger, Jossie has always been driven when it comes to her education. Throughout her years of schooling, she has always strived to earn the best grades possible. She doesn't receive any financial help from her family to help her through college; nevertheless, she continues to strive for the best in her studies.
Jossie is incredibly passionate about animation and hopes to be able to transfer to The University of Central Florida for their character animation degree program once she graduates from Valencia Community College. Jossie has loved art from an early age and has been experimenting with different forms of art while she saves money for a computer that will allow her to learn animation. While she understands that she has not chosen the most financially friendly field to study, she believes that it will open up a number of career opportunities for her.
"I am aiming to become as successful as I can be, for I want to show others that I'm not just another child from a broken family, but a child who is making a future for themselves."
You could be the next winner of the Community College Scholarship! Apply before April 30th for a chance to win!