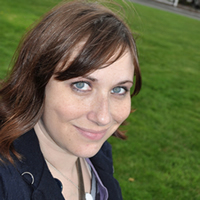 We are proud to announce Lara Foster as the winner of the February 2013 Single Parent Scholarship. By pursuing her degree in education, Lara hopes to not only inspire the middle school children she will later teach, but her own children as well.
Lara has worked hard to overcome numerous hardships in her life. Four years ago, Lara found herself and her daughter homeless without any way to support her family. This experience taught her to be grateful for everything she has in her life: a roof over her head, a hot shower and her family. When Lara graduates from school, her eldest daughter will be sixteen and close to starting her own college career. Lara hopes that her daughter will be inspired by the work she has done, working from homelessness all the way to earning straight A's in college, and use these to fuel her own college aspirations.
Lara was encouraged to become a middle school science teacher due to one teacher she had when growing up. She had one teacher who truly cared about whether each student learned. He ignited passion in his students, which Lara hopes to replicate in her own teaching. She wants to help students develop a passion for science by developing fun, hands-on and relevant lessons.
"If I can get even one child to have that light bulb moment, that epiphany, that realization that what I'm teaching DOES matter, that it DOES relate to real life, if I can get them to be passionate about science, then I've done my job."

You could be the next winner of the Single Parent Scholarship! Apply before April 30th for a chance to win.