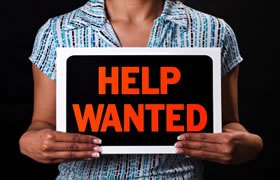 This post is not a get-rich-quick scheme. It's a survey of real careers that are growing quickly and only require an associate degree or a certificate.
Many of the students we hear from need an immediate income. They have children to take care of or debt to repay, and they can't afford to be unemployed for four years in order to attend college. They're not sure if employers really value traditional college degrees or whether going to college is worth the financial risk. If you're in this boat, you need a sure thing: a quick degree that will lead to a job that pays well. You may notice that four out of the top five careers in our survey are in the field of healthcare. In general, healthcare professions are expected to grow quickly, and many healthcare positions offer above-average salaries.
The Top Five
1.     Radiation Therapists
| | |
| --- | --- |
| Salary | $74,980 |
| Projected Growth by 2020 | 20.3% |
| Entry-Level Education | Associate Degree |
The quickest way to become a radiation therapist is to complete an associate degree in radiation therapy. Alternatively, you may complete an associate degree in radiography (imaging), and then enter a 12-month radiation therapy certificate program. In most cases, your radiography degree and radiation therapy certificates must be completed at AART- or JRCERT-certified programs. Search their databases of recognized programs to find an associate in radiation therapy program in your area. Most states also require that radiation therapists are licensed. Check with your state to determine the full licensing requirements.
2. Nuclear Medicine Technologists
| | |
| --- | --- |
| Salary | $68,560 |
| Projected Growth by 2020 | 18.9% |
| Entry-Level Education | Associate Degree |
The quickest way to become a nuclear medicine technologist is to earn an associate degree in nuclear medicine technology. You may also need to take a test to be certified by the NMTCB. Check with your state board of health to see whether certification is required in your state. If you already have an associate or bachelor's degree in a similar field, you may qualify for a 12-month certificate program in nuclear medicine technology. Regardless of the path you take, make sure your nuclear medicine program is accredited by the JRCNMT.
3. Dental Hygienists
| | |
| --- | --- |
| Salary | $68,250 |
| Projected Growth by 2020 | 37.7% |
| Entry-Level Education | Associate Degree |
It is most common for dental hygienists to hold an associate degree in dental hygiene. According to the BLS, 56.5 percent of all dental hygienists' highest degree is an associate degree, and close to 30 percent have earned a bachelor's degree. There are few dental hygienists with any other level of education. The Commission on Dental Accreditation (CODA) is the accrediting body for dental hygiene programs. Search their public database to find an accredited associate program in your area. If you've been having trouble finding colleges in your area that offer the other degrees found in this article, you may have more luck with dental assisting, as the CODA accredits 1300 programs.
4. Diagnostic Medical Sonographers
| | |
| --- | --- |
| Salary | $64,380 |
| Projected Growth by 2020 | 43.5% |
| Entry-Level Education | Associate Degree |
Most diagnostic medical sonographers earn an associate degree in diagnostic medical sonography. Like other healthcare careers, if you already have a related medical degree, you may qualify for a 12-month program. The Commission on Accreditation of Allied Health Education Programs (CAAHEP) provides accreditation for diagnostic medical sonography programs. Search their database for programs close to you. It is also worth noting that the CAAHEP accredits three online programs.
5. Telecommunications Equipment Installers and Repairers, Except Line Installers
| | |
| --- | --- |
| Salary | $54,710 |
| Projected Growth by 2020 | 14.6% |
| Entry-Level Education | Certificate Program |
Telecommunications installers have more diverse educational requirements than the other professions in this post. Thirty-one percent hold a high school diploma or GED, 36 percent have some college, 17 percent hold an associate degree, and 11 percent hold a bachelor's degree. Most of these professionals finished high school; very few of them hold a graduate degree. While you may be able to land a job as telecommunications equipment installer without any additional schooling, you can place yourself at a significant advantage by earning a certificate in networking/telecommunications. Even with 14.6% growth, a profession with above-average pay that does not require formal education will have high competition for positions.
Dive Deeper
The five careers identified in this article may not work for you. Here's how you can find other careers that do not require extensive schooling but still pay well. It all starts at the Bureau of Labor Statistics' Occupational Outlook Handbook. The handbook has very comprehensive information about careers, and from the home page, you can filter occupations by your salary requirements, the amount of education required, and the growth expected for the career in the coming years. Remember that wages and employment growth can vary greatly by region. You can use the BLS's wage estimates by state. You can also use Projections Central to make sure the occupation is projected to grow in your state.
Methodology
To identify the five most lucrative quick careers, we downloaded some custom data files and looked at every career that is projected to grow at least 10 percent by 2020. We limited our research to careers in which the majority of employees have at least some college or an associate degree. To finish, we sorted by the median wages earned by employees in that field.