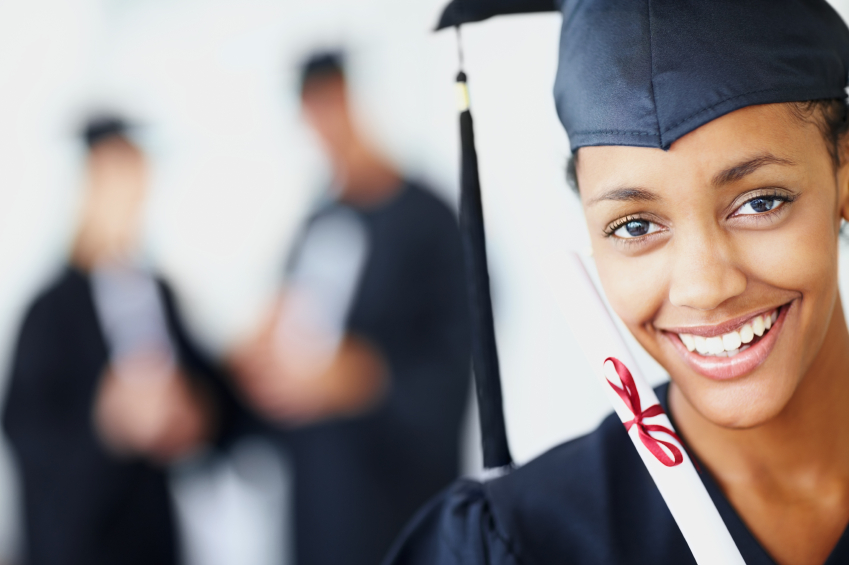 If you're a recent graduate, it's possible that the initial bliss felt in the moment of walking across that stage has started to fade as you're beginning to think more seriously about paying off your student loans. The average Class of 2016 grad is carrying $37,172 in student debt, according to an analysis by higher education and financial aid expert, Mark Kantrowitz. With this number at an all time high, how are young people supposed to manage moving out, searching for a job, and repaying their loans? Besides working overtime and carefully budgeting for those monthly payments, there are several programs that exist to help get your student loans paid off, without you actually paying for them.
Volunteer
If making a difference in the world while simultaneously chipping away at your student loan debt sounds appealing to you, there are a number of opportunities you might want to take advantage of. For example, Peace Corps volunteers serve all over the world and are provided with housing and a living stipend. After their 2 year commitment is over, they receive more than $8,000 to help with moving back home. Additionally, the Peace Corps offers a variety of student loan benefits, depending on what type of loans you have. Possible benefits include deferment, partial cancellation, income-driven repayment, and forgiveness. You have your whole adult life ahead of you, so why not start it out with an adventure that helps others AND pays off your debt.
Another volunteer service program, AmeriCorps, provides a similar opportunity, just a little bit closer to home. Volunteers serve all over the U.S. at nonprofits, schools, and community groups. As for how it helps with student loans, AmeriCorps offers the Segal Americorps Education Award, which all members are eligible to receive after serving in an approved program. The dollar amount of the education award varies from year to year, because it's dependent on the U.S. Department of Education's Pell Grant. The award is rather flexible, as it can be used to pay for student loans, tuition costs, or a combination of both.
While both of the opportunities mentioned above are government programs, independent organizations are also starting to get involved in solving the student debt crisis. SponsorChange is an organization that collaborates with social impact organizations in order to reward volunteers with student loan payments. Organizations post skills-based projects online, and volunteers browse the opportunities to find projects they can complete in return for direct student loan payments.
Join the Military
It's common knowledge that the military offers great education benefits through the Post-9/11 GI Bill, which covers a variety of training and higher education costs. The Yellow Ribbon Program makes it possible for a student to have tuition completely covered at participating schools. But what if you've already attended college and accrued student debt? The Military Loan Repayment Program provides up to $65,000 of student loan forgiveness. The amount you're eligible to receive depends on the branch you enlist in and whether you're joining the reserves or becoming an active duty member. If military service and the loan repayment program is something you're considering, the Federal Student Aid website is an excellent resource for continuing your research.
Enroll in a loan repayment program within your career
Are you passionate about your career? Maybe even so passionate that you took out student loans without being sure how you would pay them back? The good news is, many career paths correspond with loan repayment and loan forgiveness programs.
Teaching
Teachers are well known for being underpaid. Because of the required education it takes to become a teacher, paying back the loans it took to get there can be a large burden. The Federal Student Aid Office of the U.S. Department of Education offers loan forgiveness and loan cancellation for teachers who work in low-income schools. The type of loan benefit you qualify depends on the type of loans you took out. All the eligibility information is available on the Federal Student Aid website. Additionally, The American Federation of Teachers provides a database of loan forgiveness programs available to teachers.
Healthcare
There are a number of loan benefit programs available if you're pursuing a career in healthcare. The American Association of Medical Colleges provides a database of loan repayment programs for medical students. Available to nurses is the Nurse Corps Loan Repayment Program, which places registered nurses in critical shortage facilities across the U.S., including nonprofit hospitals, clinics, nursing schools, and other types of mental health and primary medical care facilities. This program repays 60% of each nurses' student loans over the course of their two-year commitment. Members can also opt to stay for a third year and have an additional 25% of their original balance paid off. If you're a veterinarian, you may want to look into the Veterinary Medicine Loan Repayment Program (VMLRP). Through the VMLRP, funded by the National Institute of Food and Agriculture, participants work in geographic areas designated as having veterinarian shortage situations and receive $25,000 toward student loans for up to three years. All licensed health care providers can earn up to $50,000 toward student loans through the National Health Service Corps (NHSC) Loan Repayment Program. The NHSC matches participants to sites that are in need of medical, dental, or mental health care.
Public Service
There seems to be a theme here so far; if you have an interest in helping others and it's reflected in your career choice, there's a good chance you might qualify for a loan benefit program. This idea holds true with public service. Working for the government or for a not-for-profit organization may qualify you for the Public Service Loan Forgiveness Program. This program provides complete direct loan forgiveness after you've made 120 payments while working full-time for a qualifying employer.
Move to a new city
Did you just graduate with student loan debt and a lack of plans for the future? You might want to consider packing up and moving! A few cities around the U.S. offer incentive programs for college graduates. Niagara Falls, New York, for example, has a student loan reimbursement program that will cover up to $6,984 during an applicant's 2 year agreement to live in a specified neighborhood. Michigan offers leadership-minded young people $36,000 plus benefits per year to live and work in Detroit through the Challenge Detroit initiative. Additional benefits of this program include working only 4 days a week, enjoying monthly social and cultural activities, and networking with local companies. There are 77 Rural Opportunity Zones in Kansas, which are counties that offer incentives for new residents. 67 of those counties offer student loan repayments up to $15,000.
What if none of these options work for me?
Maybe your career doesn't qualify for a loan forgiveness program, and you've settled into life where you are, so dedicating years of your life to charity work, the military, or an entirely new city just doesn't appeal to you. What other ways can you lessen the burden of student debt? We, at SR Education Group, are doing our best to contribute with the GradReports Loan Repayment Grant. At $2,000, this award is on a smaller scale than the previous programs that have been mentioned, but it also requires a much lower level of commitment. It's extremely easy to qualify: if you're carrying student debt, you're eligible. All you need in order to apply is 15 minutes and an opinion. Fill out a short review of your college on GradReports, and you'll be entered to win $2,000 toward student loans. Plus, just like the other opportunities, by participating in this program you'll be helping a community of people: prospective college students. Your experience is an invaluable resource, and by applying for the loan repayment grant, you'll be giving useful advice to hopeful students who want to make the best choice for their future.
If any of these opportunities catch your eye, it would be a good idea to look into the details and requirements of the program, along with the specifics of your own student loans. Your loan advisor should be able to provide guidance and talk you through repayment plans that will work best for you and your career ambitions. Graduating is a monumental accomplishment that requires a lot of hard work, research, and resourcefulness. If you take the same skills you used to get your diploma and apply them to getting it paid off, you may just be able to be debt free sooner than you think!