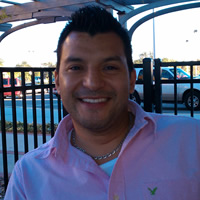 Carlos Ramirez is an inspiring applicant who won over the scholarship committee with his ambitions of educating youth to lead healthier lives.
Carlos has encountered many hardships, starting with life in an impoverished neighborhood and including a battle with cancer. Despite these circumstances, however, Carlos has remained ambitious and seeks to find a purpose for his life.
Carlos is a Navy veteran who is studying sports and exercise science at the University of Central Florida. He is motivated to get this degree by the current prominence of childhood obesity in our society. He intends to use his degree to educate families and to provide them with tools to implement a nutritious diet and keep their children active. He hopes that he can act as a mentor and healthy example for younger generations and that his success will motivate children to lead healthier lives.
Another reason that Carlos is seeking this degree is to provide his family with a better life. He believes that earning a bachelor's degree will make him more marketable in the workforce and will therefore allow him to provide financially for his family. He hopes that his two daughters will be inspired by his educational achievements and know that they, too, can accomplish anything.
Congratulations, Carlos!
"I have overcome many challenges, dropping out of school, receiving my GED, living life in the streets, joining the Navy, having cancer, surviving it, overcoming muscle atrophy and now being physically active. All of these challenges have helped me refocus my purpose in life and strive to better myself."