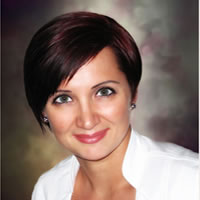 Oksana Usenko submitted an impressive application to earn the January 2013 Women's Scholarship. Oksana demonstrated that she has both a great passion for helping those in need and determination to reach her educational goals.
Oksana is currently working on her associate degree at Valencia Community College with the hopes of transferring to the University of Central Florida to earn a degree in health informatics and information management. She currently works with the VA's Veteran-Directed Home Services Program, which has allowed her to gain experience in the field in which she would one day like to work. Her goals are to continue working with disabled veterans to help them live within their homes instead of assisted living facilities or work with special needs children to help them gain the skills they need to achieve academic and personal success. Oksana has a personal connection to both of these fields, which provides her with the motivation to achieve her goals.
I believe that this career path is ideal for my personality, beliefs, and desire to help less fortunate individuals within our society. It will allow me to focus in two areas I am extremely passionate about, while making a notable contribution to society.
If you applied for the January 2013 Women's Scholarship and didn't win, check out these tips from the scholarship committee to help improve your chances. Remember,the Community College and Single Parent scholarships close February 28.