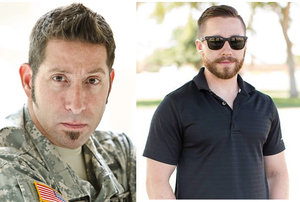 We are pleased and excited to announce Joseph Morris and Nathanael Bullock as our 2017 Military Scholarship winners! The SR Education Scholarship Committee is impressed by these two individuals' dedication to pursuing higher education in the face of personal and financial obstacles.
Joseph is the single father of two children and works for the Veterans Health Administration while concurrently studying at Portland State University. His time in the Army and Air Force taught him the importance of focus, compassion, and the ability to adapt in new environments. He also believes that as a veteran he has learned the value of respect and efficiency, and has the discipline to persevere in tough situations. Joseph plans to use his degree in anthropology to work in the growing field of maritime archaeology, and is excited to contribute to the evolution of marine technologies.
Nathanael is currently studying at Mesa Community College and hopes to graduate with a degree in fire operations. His time in the army as a military intelligence analyst taught him invaluable skills, including time management and setting actionable and organized plans. As a future firefighter, his goal is to positively impact and inspire both his community as well as his family. Nathanael is looking forward to working a job that he is not only passionate about but will also support his family.
We are extremely excited for Joseph and Nathanael and send our well wishes their way. We hope that with the financial support, both of you will have one less thing to worry about while you pursue your career goals. As part of our mission to make education more affordable, SR Education Group has given away $189,000 in scholarships since 2010. All students are encouraged to check out our website to learn about our scholarship opportunities and apply today!