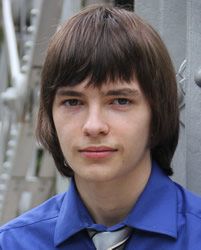 SR Education Group is proud to announce Ryan Bosela, an Architectural Drafting student, as the winner of the Community College Scholarship. Since a young age, Ryan has been passionate about the field of Architecture. This passion has encouraged him to push for excellence in all areas of his schooling, eventually earning him recognition from his teachers and the National Technical Honor Society.
Though Ryan has numerous achievements for his age, he has also needed to overcome numerous struggles to get where he is today. At a young age Ryan was diagnosed with Asperger's Disorder, a form of Autism. In addition to his Asperger's diagnosis, Ryan also began having seizures with a frequency and severity that required surgery. But instead of allowing these difficulties in life to get him down, Ryan focused on his future goals and allowed his dreams to become his driving force.
Ryan began taking classes in his field of Architectural Drafting while still in high school, gaining vast experience in AutoCAD, Autodesk and Architectural Desktop software. His enthusiasm for the field gained the attention of his instructor who chose Ryan to represent his school in a regional competition. He was also inducted into the National Technical Honor Society and was named English Student of the Year, upon the recommendation of his teachers. All of this goes to show the immense commitment that Ryan has to his education and career goals. Upon completion of his Architectural Drafting degree, he hopes to become employed as part of an Architectural or Engineering firm, with the possibility of pursuing further education.
Architectural Drafting and Engineering Technologies has become my life's dream, pursuing a career that will satisfy both my need to be meticulous and creative at the same time. My hope is not only to complete the plans of others, but to help them visualize all the possibilities of what could be achieved and dream a little bigger, too.
Finalists this Scholarship Round:
Seth Evans from Pittsburgh Institute of Aeronautics
Wayne West from American River College
Anna Ellis from Cincinnati State Technical and Community College
Emmalie van Kuilenburg from Central Piedmont Community College
Kenneth DePalo from DeVry University