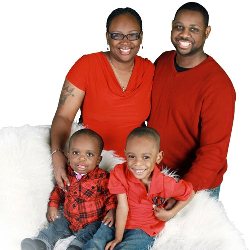 SR Education Group is proud to award Patricia Jackson the March 2013 Women's Scholarship. Patricia is currently attending Mercer University to pursue a degree in early care and education. Her application demonstrated that she has a passion for her field and that she's determined to complete her education.
We hope that the scholarship money we've awarded to Patricia will encourage her in her last year of schooling and help her family financially as she pursues her dreams.
From an early age, Patricia was confident that working in early childhood education was the right path for her. She has worked in numerous childcare settings and obtained an associate degree in addition to several early childhood certifications. Now, she is pursuing her bachelor's degree with the hopes of eventually completing a master's degree in the field. Despite a number of medical and financial hardships for her family, Patricia has remained motivated and resolute in the pursuit of her degree.
In Patricia's own words, "Being an educator is all about teaching and giving back." It is clear from Patricia's scholarship application that she plans to use her education as a tool for giving back to her community. From helping her local church as they set up a child care facility to eventually teaching others interested in her field, Patricia plans to use her degree to help others.
"I feel that my drive and passion for being an educator will take me a long way. My future looks extremely bright because I refuse to give up on my goals. Instead I chose to celebrate and appreciate every step of the way."
SR Education Group awards $4,000 in scholarships every month to students in need. The Single Parent and Community College Scholarships are still accepting applications for April.