The Make a Difference Scholarship is aimed at helping students who are seeking a degree that will help them make a difference in the world. Previous winners of the scholarship included a nursing student and an elementary education student, both who had clear visions for how they would like to change the world with their degrees. This month, two winners for the $1,000 dollar scholarship were chosen, one by the SR Education Group scholarship committee and another by a popular vote on Facebook. Both winners clearly demonstrated in their applications a profound desire to make a difference in their communities and around the world.
SR Education Group Committee Winner: Ali
Ali won the committee vote for the Make a Difference scholarship with her ambition to provide wilderness therapy to all at risk adolescents regardless of economic means. Ali plans to use her degree program to collect evidence that will inspire organizations to provide wilderness therapy to adolescents who don't currently have the means to attend these programs.
Ali from Guide to Online Schools on Vimeo.
Popular Vote Winner: Ashanti
Ashanti won the popular vote for the Make a Difference scholarship with her vision of opening an elementary school for underprivileged youth. Having already worked with children through volunteer programs, Ashanti has the experience and drive it will take to make her dreams into reality.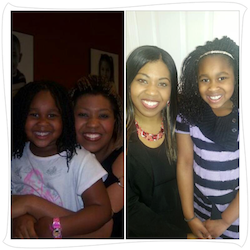 "Upon completion of the Elementary Education concentration within the M.Ed. in Instructional Leadership program (2014), I plan to continue my education to gain administration skills in education settings. My future endeavor is to open a school in a low-income, minority community and provide private education to underprivileged children. The education system has been manipulated to provide the best teachers, classrooms, and neighborhoods to children of high class, prestige and financial assets. Many of our African American children do not fall into those categories. I am passionate about providing the same opportunities to each child regardless of class, ethnicity, income, disability or ability! Over the last four years, I have worked with children in various capacities. In 2009, I mentored multiple youth through the Big Brother's-Big Sister's Organization (Picture to the left.) Although each child presented their own challenges, I always made an effort to target behavior management mechanisms: listening to teachers, respecting parental figures in the home, handling bullies and being a positive role model to younger siblings and classmates when adversities arose. In addition, I have volunteered over 1,000 hours at the Boys & Girls Club of South Central Kansas. While serving predominately low income youth from urban communities, I lead counseling sessions and implemented a reward and recognition program that empowered children with tools needed to overcome personal and educational setbacks. I wholeheartedly believe, "An education system isn't worth a great deal if it teaches young people how to make a living but doesn't teach them how to make a life." –David Suzuki"