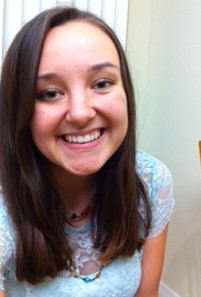 We are so excited to announce the winner of our October 2016 GraduatePrograms.com Scholarship: Bethany Ross! GraduatePrograms is a product of SR Education Group and is a resource aimed at helping prospective and current graduate students. With over 51,000 reviews of over 1,700 schools, it's the main online source for student reviews of graduate programs. We received 2,398 entries for this round of the scholarship, and our winner, Bethany, will be receiving $2,500 toward her education at the University of South Florida!
"I am thrilled and honored to be selected for this scholarship! I love the University of South Florida and cannot wait to complete my M.S. in Intelligence Studies there," said Bethany. "I look forward to a career of serving others and I thank you for helping me achieve this goal." Bethany works for a local police department and is committed to advancing her education and career by completing the Intelligence Studies master's program at USF. She's extremely thankful to USF and her professors for practically preparing her for a law enforcement career.
We are thrilled to be awarding this scholarship to Bethany in support of her dedication and future aspirations. Of course, there are many deserving students out there with inspiring goals, and we encourage you to stay tuned for other scholarships you may be eligible for. SR Education Group is awarding the $2,500 GraduatePrograms.com Scholarship on a quarterly basis, and the next deadline is December 31, 2016. Information about our other financial aid opportunities, including our Graduate Scholarship for Teachers and our Community College Scholarship, is available on our corporate website, SREducationGroup.org.
We send our congratulations to Bethany on her win, and wish her the best with her education and career goals! If you missed this round of the GraduatePrograms.com Scholarship, be sure to check out the opportunity and apply today for the next round!