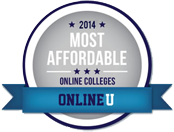 OnlineU.org releases new studies comparing all U.S. online degrees on quality and affordability across 12 more disciplines to further help students make better-informed higher education choices and avoid high student debt.
SR Education Group, a provider of authoritative online education resources based in Kirkland, Wash., released a major update to their 2014 Most Affordable U.S. Online College Rankings. The update expands the current study to include 12 more degree disciplines. The 2014 Most Affordable U.S. Online College Rankings was initially launched on http://www.OnlineU.org with 12 disciplines in November of 2013.
The update released today compares all available U.S. online degrees in the 12 new disciplines on quality and affordability. The expanded list now covers 24 of the most popular subjects students seek via online education including accounting, business, counseling, criminal justice, early childhood education, education, engineering, finance, forensic science, healthcare, human resources, human services, IT & computer science, law, marketing, MBA, nursing, nutrition, paralegal, psychology, public health, religious studies, social work and teaching.
The main objective of OnlineU.org and the 2014 Most Affordable U.S. Online College Rankings is to shift the discussion around higher education from prestige and selectivity to quality and affordability. With student debt over $1 trillion, affordable educational options are more important than ever. OnlineU.org hopes that by recognizing colleges and institutions that make a concerted effort to keep their costs low, other providers of higher education will follow suit. More importantly, the hope is that students start to consider prices as carefully as they consider the location and selectivity of a college.
People who choose online education often know which degree they are interested in before they pick a college, unlike most traditional brick and mortar students. The 24 degrees represented on OnlineU are the most popular degrees students earn online. For instance, business is the most popular online degree. During the 2011-2012 school year, 162,907 students graduated with an online business degree. "When we launched the site back in October of last year, we had no idea how much interest there would be," explains Sung Rhee, CEO of SR Education Group, "but the response has been overwhelmingly positive. We decided to expand our Rankings to highlight even more popular degree options and more schools making a concerted effort to keep tuition costs low."
OnlineU.org and the new update to the 2014 Most Affordable U.S. Online College Rankings are completely free and free of advertisements. The Rankings put tuition fees at the front of the conversation and the information is presented in an unbiased manner in order to show students which institutions provide their degree of interest at a price that meets their budget. Costs can vary widely within one school depending on the program of interest and, therefore, OnlineU's methodology can be really helpful for any student who knows what he or she wants to study.