SR Education Group is proud to announce the launch of OnlineU.org, a free, online guide enabling students to compare all available U.S. online degrees on quality and affordability in 12 disciplines ranging from business and healthcare to IT and social work.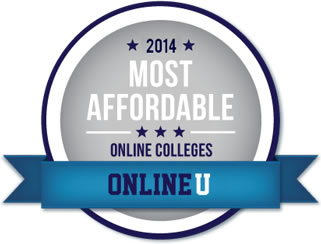 The new site releases its 2014 Most Affordable U.S. Online College Rankings, the first of its kind showcasing online colleges that strive to make higher education more affordable for parents, working professionals, and any student with many responsibilities, time constraints, and budget considerations. OnlineU hopes to enable more Americans to go to college by encouraging institutions to lower the overall cost of earning a degree and ultimately be part of the solution to the nation's student debt crisis. Some 141 colleges featured in the rankings offer an annual tuition of less than $10,000,seven of them offering online programs for less than $5,000 per year.
Because location is no longer a limiting factor in a student's college choice, online education is a great way for colleges and universities to finally compete in a truly customer-driven marketplace. The average tuition fees of the colleges featured in the Most Affordable Online College Rankings is only $10,384,which is less than half of the national average, representing savings of over $60,000 over four years. Thanks to OnlineU, colleges that students may not have considered five years ago have now become viable options.
"Our main objective is to shift the discussion around higher education from prestige and selectivity to quality and affordability while empowering students to become better-informed consumers," explains Sung Rhee,CEO of SR Education Group. "Skyrocketing college costs combined with the rising burden of student debt are compelling many American families to look for more affordable college education options. Prior to OnlineU.org, it was nearly impossible for students to easily and quickly compare the prices of online degrees across a variety of schools. The 2014 Most Affordable U.S. Online College Rankings put tuition fees at the forefront of the conversation and show students which institutions provide their degree of interest at a price that meets their budget expectations."