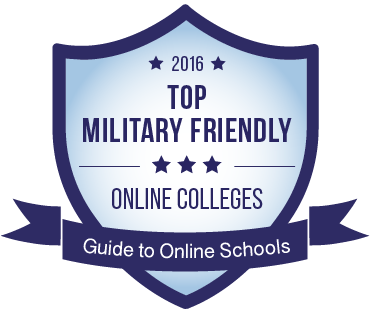 We are proud to announce our 2016 Top Military Friendly Online Colleges and 2016 Top 15 Yellow Ribbon Online Schools lists, both published and available at Guide to Online Schools. We evaluated over 500 online colleges in order to provide you a list of 78 unique online colleges that offer exceptional service for military servicemen and veterans. On top of that list, we've added a list of the Top 15 Yellow Ribbon Online Schools.
For the development of the list, data was collected from KMI Media Group, who conducts an annual Military Advanced Education and Transition survey of schools. Our analysts considered 4 specific factors: military culture, online support, financial aid, and flexibility. Over 500 unique schools were evaluated on each of these factors and given a score based on a weighted average, and all schools included in the list scored at least 70 points out of 100.
We, at SR Education Group, have always valued military members of America. We previously offered a Military Scholarship and we've been putting together these great resources on Guide to Online Schools for years. This years addition of the Top 15 Yellow Ribbon Online Schools truly sets our resource above the pack. As part of the Post-9/11 GI Bill, the Yellow Ribbon Program allows schools to elect to support a certain number of veterans with additional funds, which the U.S. Department of Veterans Affairs agrees to match. All ranked schools support an unlimited number of students and have unlimited maximum contribution amounts per student. After meeting the Yellow Ribbon Program qualification, schools were ranked based on their scores.
We hope you enjoy this resource! Please see the full list here: http://www.guidetoonlineschools.com/online-schools/military-friendly