What inspires us to learn, and where will that learning take us? Our scholarship board has reviewed many applications that address such forward-looking questions, landing us with the winners for our first round of 2019 scholarships. We were inspired by the drive and dedication applicants had in regard to learning. Our scholarship winners' motivations stemmed from what preceded them – like strained financial upbringings, tensions with family members, pushing against cultural hostilities – to what they envisioned for their futures: the ability to give to their communities, care for their families, and inspire others to learn. Here are the undergraduate and graduate winners we so proudly present: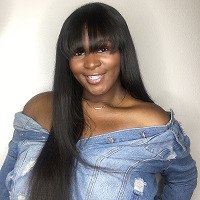 Kevwe Abamwa attends the University at Buffalo, studying sociology, criminology, and gender and women studies. Kevwe hopes that by studying the cultural context in which crime and misdemeanors thrive, she will be able to help implement the necessary changes in people's lives to pull them out of their harmful situations. The $5,000 scholarship will help her in this undergraduate journey. Of course, this is but one of many steps Kevwe plans to take to accomplish her goals. She dreams of entering Law School in 2020. She hopes that, with a law degree, she can help keep marginalized groups safe. Expressing her excitement at receiving the good news, Kevwe said, "This scholarship will help offset a huge financial burden and I am forever grateful."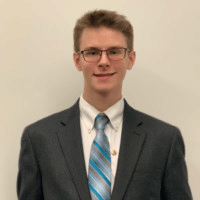 Jarret Wonders attends Kent State University. He is getting his bachelor's degree in accounting, since he thrives when dealing with details and numbers. When he thinks of what he can contribute to the world, Jarret bears in mind both his ability in math and his love for working with people. The recent difficulties he has experienced in his personal life have inspired him to work even harder, in the hope of providing for both himself and his family. His current career goal is twofold: to be an accountant manager and to team up with someone to start a business that benefits the world in some way. "When I saw the email saying that I received the SR Education Group Scholarship," Jarret wrote us, "I started to cry; and the first thing I did once I regained my senses was call my mom." His dedication to his family – and yes, his love for his mother – has added to our excitement to support Jarret with this scholarship.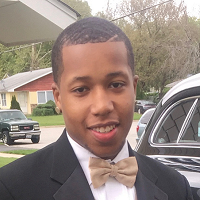 Charles Barnett is an undergraduate studying sports management and athletic coaching at Central Michigan University. He grew up in a single-parent household, always pushing against cultural stereotypes to pursue what could to many seem like an unviable dream. But he persisted. His hope is to achieve his bachelor's degree and then return to his home community. Once home, he plans to coach or teach high school students, not only to impart information, but to inspire kids who are not yet aware that they could go to college one day. Charles has faced countless difficulties, but instead of feeling helpless, he has used those hardships to foster empathy and a desire to help others. His words to SR Education Group display his giving character. "Thank you for investing in me," he said, "so that one day I may invest in others."
Shaunte Webb Austin goes to Stillman College, a campus with the stately, brick-building charm characteristic of the Deep South. Her studies in business administration will, she hopes, help her mind grow in its creative abilities, so that she can provide new ideas to whatever company she ends up working for. As a mother of two children, Shaunte is aware of the ways her achievements will affect her family. Obtaining this degree will help her financially support her children. Furthermore, through her hard work, she will likely encourage them to pursue their own dreams and plans. Having had to put her degree on pause once before, due to financial reasons, Shanute is determined to finish this time. She hopes to use her testimony of prayer and persevering as a means to encourage others; as if to say, look what we can do if we don't give up.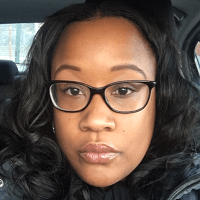 Shekesha Robinson is our graduate scholarship winner. She studies at Wilmington University, pursuing her degree in human resources. While many students have their own dreams they pursue by getting a specific degree, Shekesha considers both her own dreams and her sister's dreams. Her story incorporates love for her family, hopes for self-improvement, and pushing through almost unbearable circumstances. She and her sister had long shared a plan to attend graduate school together, to study human resources. Due to illness, her sister is unable to go; so Shekesha has prioritized her degree as a way to honor her sister. With her degree, Shekesha plans to get a higher managerial position in the human resources department at her current company. Her gratefulness to SR Education Group was clear and moving. "All I could think was, 'Dreams do come true, and my prayers have been answered!' I can continue my education without it being a financial hardship."
We are incredibly proud of our undergraduate and graduate scholarship winners as they continue in their educational journeys. With such admirable goals, and drive to succeed, we can't wait to see what each of them achieve! The next round of scholarships is currently open and winners will be finalized after the March 31st deadline. If you are a current community college, undergraduate, or graduate student, look into our scholarships page for more information!