Optimal is happy to award our Spring 2020 Military Scholarships to Hannah Burgess and Sarah Maara. Both applicants are motivated to use their educational opportunities to serve others with their unique skill sets and drive to achieve their goals. Each of these hardworking award winners have admirably taken their experiences in military service as opportunities to grow personally and professionally, and we are pleased to recognize them for their dedication to being of service to their respective communities. Read more about their educational aspirations below!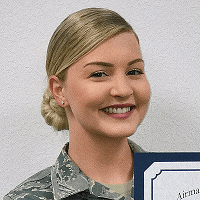 Hannah Burgess is currently a student at the University of Utah, aiming to graduate in 2021. Introduced to holistic methods of care and healing at a young age, Hannah is committed to building a foundation of knowledge and experience in the medical field through her major in kinesiology and minor in pediatric clinical research. She plans to use what she learns in her undergraduate years to bring a fresh perspective to future studies in the medical field of oncology. Aiming to sharpen skills that will make her an adaptable, empathetic, and holistic physician and researcher, Hannah's goal is to bring a patient-centered, body-led approach to patients seeking treatment for cancer. She was inspired to join the Air Force Reserve by a call to be a part of something bigger than herself and to challenge herself after high school, and is currently serving a six year contract as an Optometry Technician. She credits her experience in the military for teaching her how to rely on herself, to work in a team towards a common goal, and to learn how to lead through building relationships, communicating effectively, and building respect. Hannah has used her time in the Air Force Reserve to take advantage of opportunities for growth and development; she's had the chance to attend Airman Leadership School to become a Staff Sergeant in the Air Force, and was even selected for the leadership and Distinguished Graduate awards for that class. Hannah is confident she has become strong physically, mentally, and emotionally through her service in the Air Force Reserve. To support her educational goals, Hannah has balanced her school and military commitments with a job as a certified nursing assistant in the operating room of her local hospital. Upon receiving the scholarship, Hannah told us, "I feel so excited and honored to have received the Military Scholarship. This is a huge blessing and it feels amazing that my hard work is paying off." She has worked hard to make her dreams a reality, and Optimal is happy to support her in pursuing her vision for her future.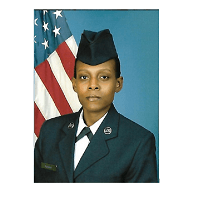 Sarah Maara studies finance and accounting at Southern New Hampshire University Online. She sees this degree as an important stepping stone in her long-term career plan to become an entrepreneur. Sarah is active duty in the Air Force, and currently works as an Enlisted Finance and Accounting Comptroller. She plans to use her experience and education during her undergraduate years to transition to work in both the private and government sectors before pursuing entrepreneurship as a franchise owner. Ideally, she would like to gain a breadth of knowledge and experience in human relations and financial management to set her up for success in owning her own private business. After completing her bachelor's degree, Sarah intends to pursue graduate studies in business mathematics and become a certified public accountant. As a first-generation college student, the path to higher education has not been easy for Sarah. After facing financial constraints in her first year of college, Sarah stepped back to figure out a way to fund her education. Beyond her roles at school and in the military, Sarah is also a mother and helps support her own aging parents and in-laws. She knows that by achieving her educational goals, she will be able to find career success that will create new opportunities for her entire household. Sarah credits her experience in the military for not only providing her children with access to some benefits and security, but also enabling her to achieve her dream of completing her college education. She says the military has helped her maintain mental and physical wellness, and find balance in life. Additionally, it has instilled in her the importance of teamwork and family, and has given her skills in resiliency. Sarah is proud to have the chance to give back to society through her military service and to be a part of something greater than herself. Having taken some time after graduating from high school to piece together the resources needed for higher education, Sarah gathered the courage to tackle her educational goals and has set herself and her family up for a future of success. Upon receiving her award, Sarah said, "I promise to pass this down...just like it was passed down to me in my time of need." Optimal acknowledges the hard work and perseverance she has undertaken to achieve her educational and personal goals, and we are pleased to award her our Spring Quarter Military Scholarship.
Both Hannah and Sarah are commendable examples of hardworking and goal-driven students, with clear visions for their future success. In the face of financial barriers, both of these scholarship winners have forged ahead to create opportunities for not only themselves, but also for their communities. Optimal is proud to support them on their journeys.