Our military scholarship winners are strong, thoughtful, and worth taking some time to read about, so prepare to be inspired! Each quarter we award scholarships to applicants who have an important connection with the U.S. military (either having served, currently serving, or, like one of the two winners below, having a spouse in the military). The hope is to support those who support our country, allowing them to more confidently pursue higher education. We are grateful for this opportunity to highlight the following two recipients of SR Education Group's military scholarships: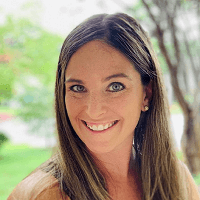 Carina Masson is getting her nursing degree from ECPI Medical Careers Institute. She is taking an accelerated course, and she plans to be a licensed practical nurse to start her new career. While working as an LPN, she would like to take online classes to finish her bachelor's degree, getting the qualifications necessary to become a registered nurse in mental health, rehabilitation, or labor and delivery. Carina hopes to use her skills as a registered nurse at the local military treatment facility, a choice inspired by her husband's connection to the military. Her husband is a navy explosive ordnance disposal technician, which required years of intense training and years of personal growth for both of them. As a couple, they both feel strengthened and stretched regularly by being part of the military. They have four children and have had to move a few times. As Carina said, "Going back to school as a military wife and mom to four kids has been the most challenging thing I have ever done." Time and finances are both resources needed in abundance as a mother and student. She has told the board: "This scholarship lifts a huge weight off of my shoulders and puts me that much closer to my end goal, and I cannot thank you enough!"
Alysse Jackson attends Colorado State University – Global Campus and is pursuing a master's degree in finance. In December of 2015, all military occupations were officially opened to women, and soon after that, Alysse applied for an officer position. She and nine other women were the first to complete the integrated class of Infantry Basic Officer Course. They had to stand up for each other, as the system was, in many ways, slow to welcome women. Alysse learned that, as strong and hard-working as she was, she needed the support system of friends and colleagues around her. She learned that achieving did not require loneliness, but rather alliance and camaraderie. The military taught her that she could attain true growth through community. Currently, Alysse and her husband are both active duty army officers, and both are pursuing further education goals. Alysse has already gotten her bachelor's degree in social science, and with the added knowledge from studying finance, she hopes to bring finance education into her local high schools. She also plans to get her certification to practice as a financial advisor. "I am honored to be a recipient for this award," Alysse told our scholarship board. "This scholarship will go a long way as I start my master's in finance."
We are so grateful to Alysse Jackson and Carina Masson for their dedication to the military, their families, and their studies. We know many challenges will arise, and we are excited for the ways these two women will work to overcome those challenges so they can better help the people around them.