This quarter's undergraduate and graduate scholarship recipients show dedication and hope, a wonderful combination that we hope you enjoy reading about! There were many applications for the undergraduate and graduate applications; needless to say, our winners proved themselves through thoughtful answers in their applications. We are proud of how they are overcoming numerous hardships, and how they have taken the time to reach out to SR Education Group for scholarship assistance.
Andrea Lockett is majoring in agribusiness at Tuskegee University. She is proud of her choice in a major that is abnormal but so important. She hopes to progress growth in the farming industry with knowledge from her agribusiness major and computer science minor. She wants to help provide an increase in food production to match the population increase. Andrea is preparing to find new ways to grow and preserve food, working towards more sustainable options. After completing her undergraduate studies, Andrea plans to pursue a master's degree in biotechnology. She feels how she is working against what is normal simply by being herself, an African-American woman, in her fields of interest. Her mother has long been strong and supportive, and they have weathered many tough times together. Despite the hardships, Andrea is determined to beat the odds and graduate debt free. "I am extremely grateful to receive this scholarship from SR Education Group," Andrea told our team. "This award will ease the burden that I had of possibly having to take out a loan for this semester. I could not be happier!"
Dymon Saunders is studying finance at Old Dominion University. She has just completed her freshman year, and has already connected herself with all kinds of college groups. She is a student ambassador for the Strome College of Business and a tutor to young children. Dymon sees graduation itself as a massive, crucial goal to her. She will be a first-generation college graduate, and she feels excited to enter the workforce having accomplished what she set out to do. One day, once she has gained more work experience, she would like to start a business. Her mother raised her and her brother, and after recent tragedy in their life, Dymon has felt the way finances seem to tighten in times when the last thing you want to worry about is money. Nevertheless, Dymon does not want to sacrifice her long-held hope of graduating just because money gets in the way. And so, when she discovered she had gotten the SR Education Group scholarship, she wrote: "I was so surprised and excited when I first read 'Congratulations' in that email. Thank you for giving me a chance… to continue pursuing my goal of being a college graduate."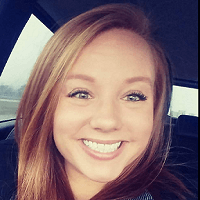 Hayley Faulkner studies nursing at Southwest Adventist University. Often, the most effective and comforting nurses are the ones who have personal experiences that inspired them to choose that job. Hayley has, indeed, had several experiences that have compelled her to enter the nursing field. After watching how caring and loving the nurses in the neonatal intensive care unit were, she felt that she, too, has that kind of love and compassion within her. She wants to provide care for other mothers who need help for their newborn babies, and she is willing to study and complete the required educational training. As a single mother with three children, Hayley faces the challenge of looking after her family while also providing for her degree. Semesters at university can come with significant anxiety, but the scholarship will alleviate some of that worry. "I'm ecstatic to start school this fall," Hayley told our scholarship board, "[to] finish strong, now that the financial burden is off my shoulders."
Deemah Al-Omari attends the University of New Mexico. She hopes to become a neurosurgeon, a passion she has begun to pursue by finding a neurosurgeon to job shadow. Deemah wants to discover treatments and help those who need medical assistance all over the world. Part of her goal is to provide treatments, the other part is to educate people about caring for elderly and sick patients. Becoming a doctor has been a consistent dream for Deemah. Being a Muslim American, she has faced adversity in many areas of life, but this has made her more resolute in pursuing her goals. She wants badly to finish at UNM, and so, despite the challenges that arise, she is prepared to continue standing strong in her personal, familial, and academic identity.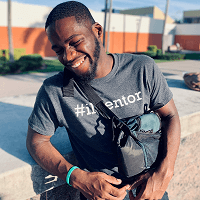 Ken You Morisseau is getting his master's degree in higher educational leadership at Florida Atlantic University. Ken You's parents instilled in him a strong academic drive. He has therefore pushed through various obstacles, knowing that this not only benefits himself, but also sets an example for others like him. In graduate school, he has prepared himself to be open about his imperfections, so that people can see how he pushed through failures in order to reach his goals. He would like to become a student affairs professional, and he is on track to become a leader in the First Year Experience university program. He wants to aspire to more than attaining titles; he wants to retain and use the knowledge (learned and experiential) from this education. These hopes are placed against his kindhearted dedication to caring for his mother. Staying in classes (plus the usual living expenses) was looking less and less viable as Ken You helped his mom more and more with unexpected medical issues. At the same time, he knew that graduating, in the long run, would be a means to financial stability for his family. Expressing his thankfulness for the scholarship, Ken You told our team: "You have no idea how much hope that this has given me! Things have been taking a turn for the worse in my life these days, but this small moment is really giving me the hope that I need to carry on. You've made more than just my day; you've made me smile again. Thank you."
With such kind responses and clear delight at having some assistance, SR Education Group glimpses into the ways our efforts can have a long-lasting effect on the students we help. Thank you to all who applied, and a special thanks to our winners.
SR Education Group's next round of scholarships for all four groups (community college, military, undergraduate, and graduate) can be reached here for more information! The deadline is September 29th, and you can apply anytime between now and midnight EST on the 29th. Finally, if you would like to learn more about what to expect from the whole process, you can visit our FAQ page, which has the most up-to-date information about our scholarship application process.