We are excited to share a little more about the fall quarter scholarship recipients for our undergraduate and graduate categories. These students are tackling tough areas of study so that they can impact their communities with care and knowledge, and we are proud to be supporting them through these scholarships.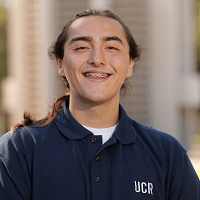 Hugo Palacios is getting a double major in education and sociology at the University of California – Riverside. He wants to be a counselor for low-income, at-risk youth. Hugo would especially like to work with students who attend his hometown's community college. He knows that many in his community, after getting discouraged, have dropped out of community college. He would like to be part of making the educational experience more helpful, giving students strategies and opportunities to engage. Hugo plans to get his master's degree in educational counselling, which will further prepare him to reach his goals. He is observant and notices trends in his community, making him a good candidate for an educational counselor. He sees his own education as a way to help others break free from stereotypes. "I am honored to have been selected for this scholarship," Hugo told our board. "This is a sign for me and my community that no matter how difficult our upbringing was, we can still succeed and stand out! This scholarship will grant me some financial freedom and allow me to better focus on my academics."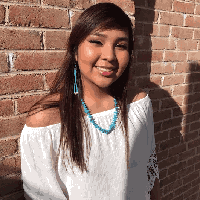 Mary Smith goes to Pacific University and is studying architecture. She grew up on an Indian Reservation in a community that suffered from a poor housing situation. Mary's hope is to learn about sustainable housing plans, so she can bring knowledge (coupled with determination) back to her community to try and make a difference. With a culture that highlights the sacredness of the home, Mary's ambition is both useful – as it provides for more comfortable living – and beautiful, as it respects and upholds her community's values. "I was going through some school-related financial problems," Mary told our scholarship board, "so I was in the middle of meditating when I received my congratulatory letter. Thank you!"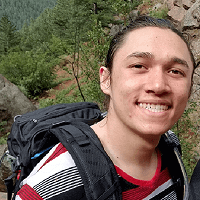 Nicholas Gaspar attends Northern Arizona University, studying biomedical sciences. Once he finishes his undergraduate degree, Nicholas would like to take a year break, where he can volunteer as an EMT at a nearby fire station and study for the MCAT. Then he would like to apply to medical schools, aspiring to be either a cardio-thoracic surgeon or a neurosurgeon. Each of these fields, Nicholas knows, requires continuous research and learning – and that is what he wants. This ambition is combined with a desire to help humanity in some life-giving way. Being a doctor or going into biomedical engineering would give him such an opportunity to help. Nicholas responded to the scholarship board, saying, "Thank you so much for the award! This is going to be a huge help in furthering my education and allowing me to pursue my career."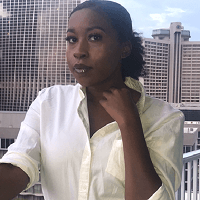 Rhyan Darrisaw studies at Georgia State University and is getting her bachelor's degree in social work with a minor in criminal justice. After her undergraduate studies, Rhyan plans to pursue a Juris Doctorate degree. With this experience, she hopes to become a Juvenile Court Judge, where she can be part of giving people a second chance. She wants to be part of righting the wrongs of the criminal justice system, bringing in her knowledge from the perspective of a minority group. Her persistence comes from various sources, especially from her mother, who has taught her to stay strong and goal-oriented. "My struggles do not show weakness," Rhyan said, "but the strength to overcome adversity even when the odds are against me. This scholarship pushes me one step closer to fulfilling my dream of becoming a Juvenile Court Judge. I am grateful to SR Education Group for providing me with this opportunity."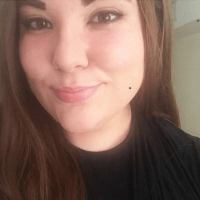 Kayla McCrary studies at Middle Tennessee State University and is getting her master's degree in international affairs with a focus on security and peace studies. With careful focus and experience, Kayla has been researching and studying, aiming to one day be a responsible and engaging international relations university professor. Before becoming a professor, Kayla plans to get her PhD. She will approach her studies (and, one day, her career) with her best work. She said that she has learned from her dad that there is no excuse to work below your personal best. "I am writing to express my gratitude for the SR Education Group Graduate scholarship," Kayla wrote to our scholarship board. "I am beyond excited and grateful, thank you for helping me and many other students with their educational pursuits!"
Again, we thank our scholarship recipients for welcoming us to stand alongside them in their educational journeys. We hope their stories will go on to inspire many students, family, and community members alike. Best of luck to all of them in the years ahead!
SR Education Group's next round of $5,000 scholarships for all four groups (community college, military, undergraduate, and graduate) can be reached here for more information! The deadline is December 29th, and you can apply at any point between now and midnight EST on the 29th. Should any questions arise regarding the scholarship application process, you can visit our FAQ page, which will provide you with up-to-date information.