SR Education Group has now awarded $62,000 to 30 incredible scholarship applicants. At the time they applied, each applicant faced significant life challenges but they had a clear plan for their future and impressive life goals. We caught up with a few of our winners to see how their lives have changed since winning an SR Education Group scholarship.
Amanda Kloepfer

Amanda won the Military Scholarship in July of this year. Her career in the military was cut short by a serious car accident. She decided to pursue a career in forensic accounting so she can stop financial problems before they start. Here's what she said:
Right now I am waiting for classes to start, they start on September 17th. I only have two classes but that is considered full time for the school. SNHU runs on quarters and I took the summer off to have some fun. I did the Midwest Valor Games in August and now I'm just getting ready for school.
I feel that this career path that I chose will be very helpful in obtaining a better job at the end of school. The fun will truly start when I get to start the Forensic Accounting specification classes. I'm really looking forward to those!
Anything helps when it comes to college and school can be expensive; especially in a Master's program. Each scholarship that I can earn will help chip away at the grand total so I won't need to worry about paying off huge student loans at the end.
Ritty Samreth

Ritty won the Community College Scholarship in October 2011. With the goal of becoming an actuary, Ritty was earning a degree in mathematics and business from Minneapolis Community and Technical College. Here is what Ritty has to say a year later.
I'm still pursuing a career as an actuary. I'll be finishing up my business management degree this semester and my mathematics degree this summer. Towards the end of next semester I will begin working on a transfer to the University of Minnesota School of Science and Engineering where I will be completing my bachelor's degree in mathematics with an emphasis on actuarial science. I'll also be looking into internships this summer. I cannot express how much the scholarship from SR Education Group has helped me. It's more than just a way to pay for school without adding to my debt, it greatly reduces the stress of worrying about how I'm going to pay for school. Every little bit helps. With scholarships I'm able to focus on my main objectives, staying in school and completing my degree. I'm excited for what awaits, and it's because of companies like SR Education Group.
Being a full time student while raising a family can be challenging at times, it's a balancing act that needs to be closely monitored. Too much attention in one area and the other will start to suffer. Luckily for me, my wife has been so supportive. She's my glue and helps keep me sane. I've still managed to maintain my 4.0 GPA, home life is stable, and the children are happy (we have a new addition, my 5 month old daughter). It definitely takes discipline and a good support system.
I think the biggest hurdle will be passing the first few exams that will enable me to begin doing actuary work. Only about 30-40% of people that take the exam pass it the first time. I would like to pass three of these exams before I complete my Bachelors degree, the study guides recommend 2000+ hours of study time to prepare for each of these exams. It takes an average of 10 years to complete ALL the exams and be designated as a 'Fellow of the Society of Actuaries', but I'm determined and focused on my path ahead.
Vanessa Moreno

When Vanessa won in the summer of 2011, she had just finished six years of service in the Army. She hoped that her eyes would be open to the new lessons she could learn in college. Unfortunately, life has gotten in the way.
Unfortunately, I was not able to remain in school. I found a job to provide benefits for my son and I, and as result I lost all public assistant and child care. I could not afford to remain in school. I would love to inspire anyone as best as I can, but mine is not a very positive story.
I must say, the scholarship money made great impact on my finances. I was able to afford much needed school supplies and books. I feel I am a little further from my career goal than what I wanted to be. I have hope that things would brighten up and turn around for me eventually though.
Thanks for following up with me. Wish I had better news for you. I work for a company that's contracted by Toyota – QEK. I am a vehicle coordinator. The pay is very minimum but I have medical benefits.
Kristina Boisvert

Kristina was the recipient of the Women's Scholarship in May 2012. She had the goal of becoming a surgical technician so she could provide for her two beautiful children, a great difficulty due to some serious medical issues.
I love being a student and learning new things. The challenge for me is taking care of my kids and still having time for all my Dr. Appointments. The scholarship helped me pay for my tuition and be able to go back to school.
We asked if she felt like her classes were preparing her for a career as a surgical technician.
"Right now I am just taking basic classes that are required. So not really right now, but once I am able to start taking classes for surgical tech I think it will be a lot better."
Kelsey Schwenk

You may remember some of Kelsey's awesome pictures from our Facebook wall. She won the Study Abroad Scholarship in the summer of 2011. Here's what she had to say about her time abroad and goals for the future.
Things are going great; I just started classes a few weeks ago. I received the study abroad scholarship that was used towards my study abroad in Tanzania last January where I learned about the Conservation of African Mammals as well as Community Based Conservation focusing on three indigenous tribes in Tanzania: the Maasai, the Hadza, and the Irawq. Receiving the scholarship alleviated the costs for my program fee and the once in a lifetime opportunity to study in a country like Tanzania can never be replaced. With my classes at the University of Delaware I normally learn about conservation methods in North America including policies and management techniques. The cultural experience to learn about conservation in a third world country that successfully conserves wildlife based on an agreement between the native people and the government has made me quite passionate about wildlife conservation on a global scale and has inspired me to pursue career paths possibly out of the country following my undergraduate studies. After studying in Tanzania, I wanted to continue my journey of global conservation studies and I was fortunate enough to be accepted into a program to study in Cambodia and Vietnam this coming January! I cannot wait for yet another fantastic academic, cultural, and travel experience to Southeast Asia. I truly want to thank SR Education Group for making my study abroad to Tanzania possible. It is greatly appreciated.
Following my undergrad work I would really like to apply to a university that combines grad school with service in the Peace Corps, my experiences have definitely acclimated me to being out of my comfort zone while traveling to very foreign places. With my wildlife conservation degree, I would ideally love to work on a more global scale, particularly out of the United States, and I think my experiences will contribute to making me a more suitable candidate for work such as that.
Check out this amazing picture from Kelsey's time in Tanzania: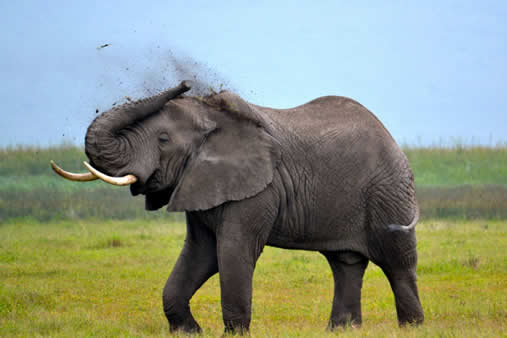 Keep checking the SR Education Group blog for more updates on our scholarship winners!