September Women's Scholarship Winner, Nanci Santistevan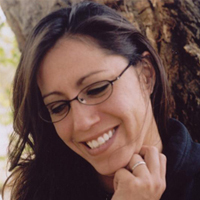 SR Education Group is proud to announce Nanci Santistevan as our September 2012 Women's Scholarship winner. We were struck by her commitment to making the world a better place through the counseling of adolescents dealing with substance abuse issues. Ms. Santistevan's mission is to help young people in crisis and to show them the path to healing. She acknowledges that this is a very important and challenging undertaking. That said, she is willing to make sacrifices to help secure the future of adolescents in her community. Once Ms. Santistevan finishes her bachelor's degree at Colorado Christian University  she plans on landing a job with a drug and alcohol counseling group. While working, she also plans on pursuing a master's degree.
I believe that humans are resilient, adaptable, and courageous; I know this to be truth because of the young men that call me mom…. Now I have the opportunity to go back to school to get the education I need to follow my heart's desire to help others.
Ms. Santistevan has the earnest desire to positively impact society that we love here at SR Education Group. We applaud her initiative. Congratulations to Nanci Santistevan for her ambitious, altruistic plans.

September Military Scholarship Winner, Jordan Smith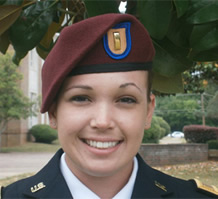 We were very impressed by Jordan Smith's application to our September 2012 Military Scholarship. This young woman's application painted the portrait of someone who has endured much hardship in her life, but has all the while conducted herself with a great deal of integrity and discipline. Despite a difficult financial situation growing up, 19-year-old Jordan has already made something of herself.
As soon as she graduated from high school, Jordan went to the Leadership Training Course in Fort Knox, Kentucky, where she was awarded the Highest Female Score for the Army Physical Fitness Test.  She then spent a year at Marion Military Institute, where she broke all stereotypes and became the first female Swamp Fox (an elite, usually all male organization) in 10 years. By her second semester, she earned a leadership role as Company Commander. At the time, she was the only female and the youngest person in any leadership role at a predominately male military college. In her final semester, she received multiple leadership awards and earned a place on the dean's list in the spring of 2012. In May 2012, she graduated from MMI and received a commission as a Second Lieutenant in the Army National Guard. She is currently assigned to the 294th Quartermaster Company in Austin, Texas and is a Platoon Leader for an Airborne Rigger Company. She is currently pursuing a degree in international studies with a concentration in international politics and diplomacy from Texas A&M University. Second Lieutenant Smith plans on continuing her officer career in the Army on active duty as soon as she graduates from college.
I plan to use my degree to develop relationships between the United States and foreign countries. I believe that as Americans, it is our responsibility to educate ourselves about the world we live in. It is vital to our development as a nation to have an understanding of the people and cultures that inhabit Earth. In the future, I hope to better educate myself, as well as my family and my troops, on the current issues and economic crises that not only impact our neighboring countries, but our nation as well.
SR Education Group is confident that Jordan Smith will make an important impact through her military career. We thank her for her service.