Our nation has seen a huge increase in students enrolling in non-traditional colleges. From 1998 to 2008, enrollment in for-profit institutions more than tripled. In 2008, there were 2.4 million students enrolled in these types of colleges. Students at for-profit institutions make up 13 percent of all of the college students in the United States. The for-profit education industry boomed and has come under a lot of scrutiny.
In fact, due to criticism of high debt loads and poor job prospects for graduates of these institutions, enrollment has dropped drastically. At University of Phoenix, one of the largest for-profit higher education companies, enrollment dropped a drastic 30 percent from 2010 to 2011. Despite limited alternatives such as overcrowded community colleges, potential students have become wary of the value of for-profit education.
Programs at for-profit institutions are, on average, four times more expensive than their respective associate degree and certificate programs at community colleges and public universities. If students are going to pay so much more, they want to be assured the degree they earn will be worth it.
But how can they tell?
GuideToOnlineSchools.com has collected thousands of reviews from real students who attended one of the schools in this non-traditional sphere. We analyzed 1,234 responses from students who attended a for-profit college and 259 responses from students who attended a non-profit college. One of the questions asked students to rate their school in terms of value. Was this school worth your money? Did it provide value to your life?
Perhaps unsurprisingly, non-profit schools fared better than the for-profit schools: The average non-profit school had a 72.5% satisfaction rate according to reviewers, whereas the average for-profit school had only a 57.1% satisfaction with the cost of tuition.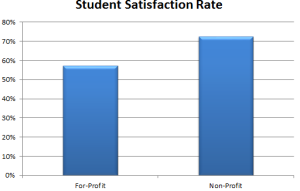 SR Education Group Tuition Value Study

The general trend, however, is that non-profit institutions have better tuition satisfaction amongst their graduates. With tuition rates rising, it is important for future students to feel comfortable they will gain value from their school of choice. Even though this data does favor non-profit schools, it's important to remember that every single school is different and some for-profit institutions are rated very highly among reviewers.
Nowadays, 56% of consumers comparison shop online. There's no reason that these non-traditional education choices should be any different. Potential students looking for a quality education with an online college should take the time to research their decisions. The opinions of previous students can help guide the tough decision process, as well as information about retention rate and loan repayment rate.  Making an informed decision about your college is the best way to ensure you're making a safe and valuable investment.